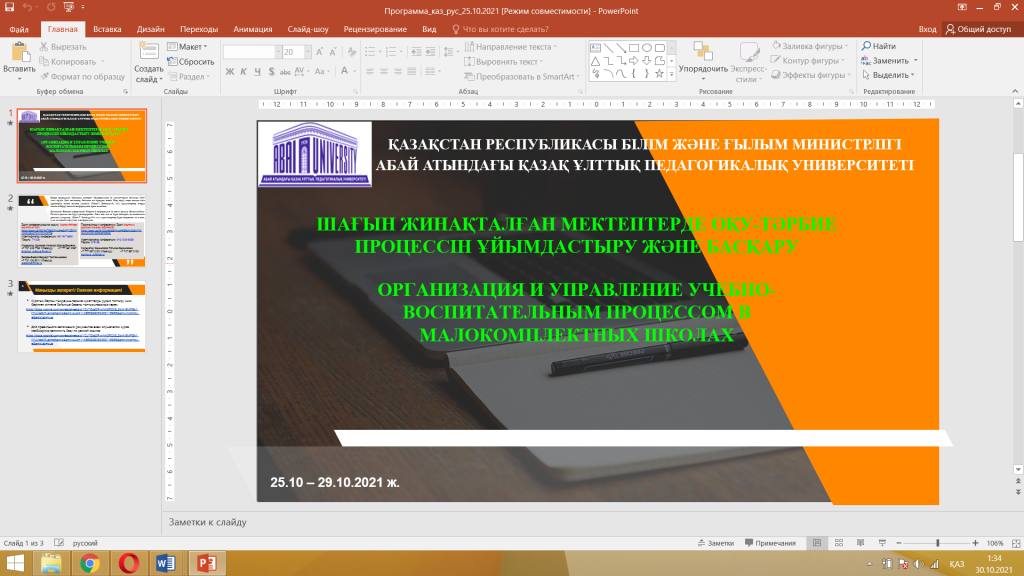 From October 25 to 29, 2021, the Center for advanced training and distance education of Abai KazNPU conducted 40-hour advanced training courses in Kazakh and Russian in the mode of distance learning for heads of small schools on the topic «Оrganization and management of the educational process in the MCS». The courses had the opportunity to train 163 heads of small schools from 12 regions of the Republic of Kazakhstan.
Within the framework of the development strategy of Abai KazNPU in order to provide methodological support for professional development of heads of secondary schools in the context of the updated content of Secondary Education in the Republic of Kazakhstan, the initiative to conduct these courses belongs to the management of the University.
The students had the opportunity to get acquainted with the changes in regulatory documents; to receive support in the design of organizational and managerial activities; to improve the algorithm for planning the activities of the MSHK using the conceptual and theoretical foundations necessary for the implementation of programs in the context of updating the content of education.
On October 29, 2021, following the results of the courses, a round table was held with the participation of the rector of KazNPU. Abai Bilyalov Darkhan Nurlanovich and Director of the Department of Academic Affairs Zhanbekov Khairulla Nyshanovich.
The heads of the university informed the students about the directions of work with small schools, convinced them of the long-term prospects for methodological support and understanding the importance of feedback.
In turn, the school principals noted the high level and relevance of the course conducted by teachers Orakova A. Sh., Kornilova T. B., Beldenbaeva M. T. and expressed a wish for closer cooperation with the leading Pedagogical University of the country. During the conversation, the heads of the MCS shared their problems and made a number of interesting proposals.
Many directors supported Yerbol Nurzhigitovich Bogenbayev, deputy director of the G. Muratbayev Secondary School of Otyrar District of Turkestan region, who shared their thoughts about the difficulties faced by schools due to the weakness of the internet, the lack of teachers.
Bolatova Zarina askarovna (North Kazakhstan region, «Kaznakovskaya secondary school» and Alenova Galiya Albekovna (North Kazakhstan region, Taman school-nursery complex) offered to consider the possibility of further methodological support from the University.
Saparov Birzhan Sagynbayevich (Secondary School No. 6, Karkaraly district, Karaganda region) made an interesting proposal to create a career guidance video of the University in order to attract applicants. Students of the course supported the proposal of the director of the K. Kaisenov secondary school, Gulmira Mendibayevna Kolesieva (Baiterek District, West Kazakhstan region) to provide long-term guardianship (patronage) methodological support from the University.